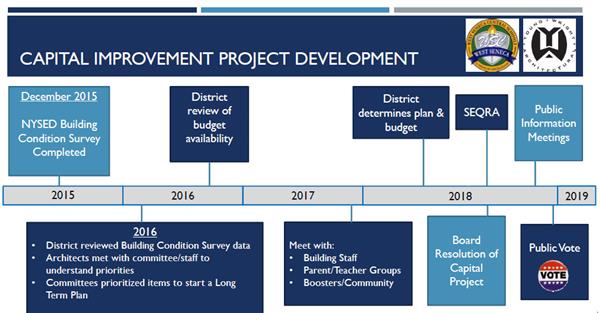 Capital Improvement Project Development Timeline (as seen in graphic above):

December 2015: NYSED Building Condition Survey Completed.
2016: District reviewed Building Condition Survey data.
2016: Architects met with committee/staff to understand priorities.
2016: Committees prioritized items to start a Long Term Plan.
2016: District review of budget availability.
2017: Meet with: Building Staff, Parent/Teacher Groups, Boosters/Community.
2018: District determines plan & budget.
2018: SEQRA.
2018: Board Resolution of Capital Project.
2018: Public Information Meetings.
2018: Public Vote.
Please refer to our latest presentation slides for more project details!

To view a recording of the November 13, 2018 presentation - click here. (116 minutes)

Future Public Meetings (Open to the Public):

Public Vote

12/4/18 - 7 a.m. to 9 p.m. - East Senior High School, 4760 Seneca St., West Seneca, NY 14224

Past Meetings with User Groups and Public:

3/9/16 – Building Condition Survey and Long Term Plan Process
5/3/16 to Present - Monthly Meetings with the Owner/Architect group to work through the District's scope priorities, project budget and schedule
9/19/16 - Capital Improvement Project Stakeholder Organizational meeting
9/18/17 - Presentation to Board of Education on the progress and process for a proposed project
12/6/17 – Meeting with Building Principals - Met with HS, MS, and Elementary Building Principals to discuss their feedback from the Staff Survey
1/10/18 – Meeting with District Parent Council - Presented to the DPC for parent feedback
1/25/18 – Meeting with Athletics and Music Groups - Presented to the Athletic and Music boosters for their feedback
2/12/18 – Board of Education Update Presentation - Presented an update on the progress and process for the proposed project
7/11/18 – District Meeting with Building Principals - The Superintendent, Business Officials and Director of Facilities met with all Building Principals to discuss the proposed CIP Scope
7/17/18 – Preliminary meeting with legal counsel and financial counsel
8/06/18 – Board of Education Update Presentation - Presented an update on the progress and process for the proposed project
9/10/18 – Meeting with Music Group - Presented to the Band Boosters for their feedback
10/1/18 - 6:30-8 p.m. - East Middle School, 1445 Center Road, West Seneca, NY 14224 - This presentation will be specific to the proposed improvements relating to athletics
10/9/18 - 6:00 p.m. - Board of Education Meeting, Potters Road Administration, 675 Potters Road, West Seneca, NY 14224
10/17/18 – 11:45 a.m. - West Seneca Senior Center, 4620 Seneca St., West Seneca, NY 14224 - General presentation
10/17/18 - 6 p.m. - West Senior, Library, 3330 Seneca St., West Seneca, NY 14224 - This meeting will be specific to the proposed improvements at West Senior
10/22/18 - 6:30-8 p.m. - Clinton Street Elementary, 4100 Clinton St., West Seneca, NY 14224 - General presentation
11/7/18 - 6:30 p.m. - West Elementary School, 1397 Orchard Park Road, West Seneca, NY 14224 - This presentation will be specific to the proposed improvements at West Elementary
11/8/18 - 6 p.m. - West Middle School, Library, 395 Center Rd., West Seneca, NY 14224 - This presentation will be specific to the proposed improvements at West Middle. Building tour to follow.
11/13/18 - 6:30-8 p.m. - East Senior High School, 4760 Seneca St., West Seneca, NY 14224 - General presentation
11/29/18 - 6:30-8 p.m. - Allendale Elementary School, 1399 Orchard Park Road, West Seneca, NY 14224 - General presentation