Return to Headlines
In kindergarten, teachers balance early development and technology
Winchester Elementary kindergarten teacher Allison Majchrowicz said she is walking the fine line of embracing technology in virtual learning and focusing on fundamental skills for her students.
For the most part she said her students are navigating technology quite well.
"We do a mix of online activities for their asynchronous work or we send home paperwork. We want that fine motor skill to still be there because that's so important in kindergarten. It's a mix of both," she said.
"I was really a proponent of the kids getting touchscreens, especially for the primary grades, but we found that some of them still have a hard time manipulating the pieces -- they're getting larger or smaller instead of just moving them, so we talked a lot about, 'We want the four way arrow when you move things. Touch on it once, take your hand off, let the arrow come up. If it's a four way arrow, then you can move it. If it's the two way arrow, then you're going to make it bigger or smaller,'" she said.
Majchrowicz's students have been using apps like Clever, Seesaw and Google Classroom.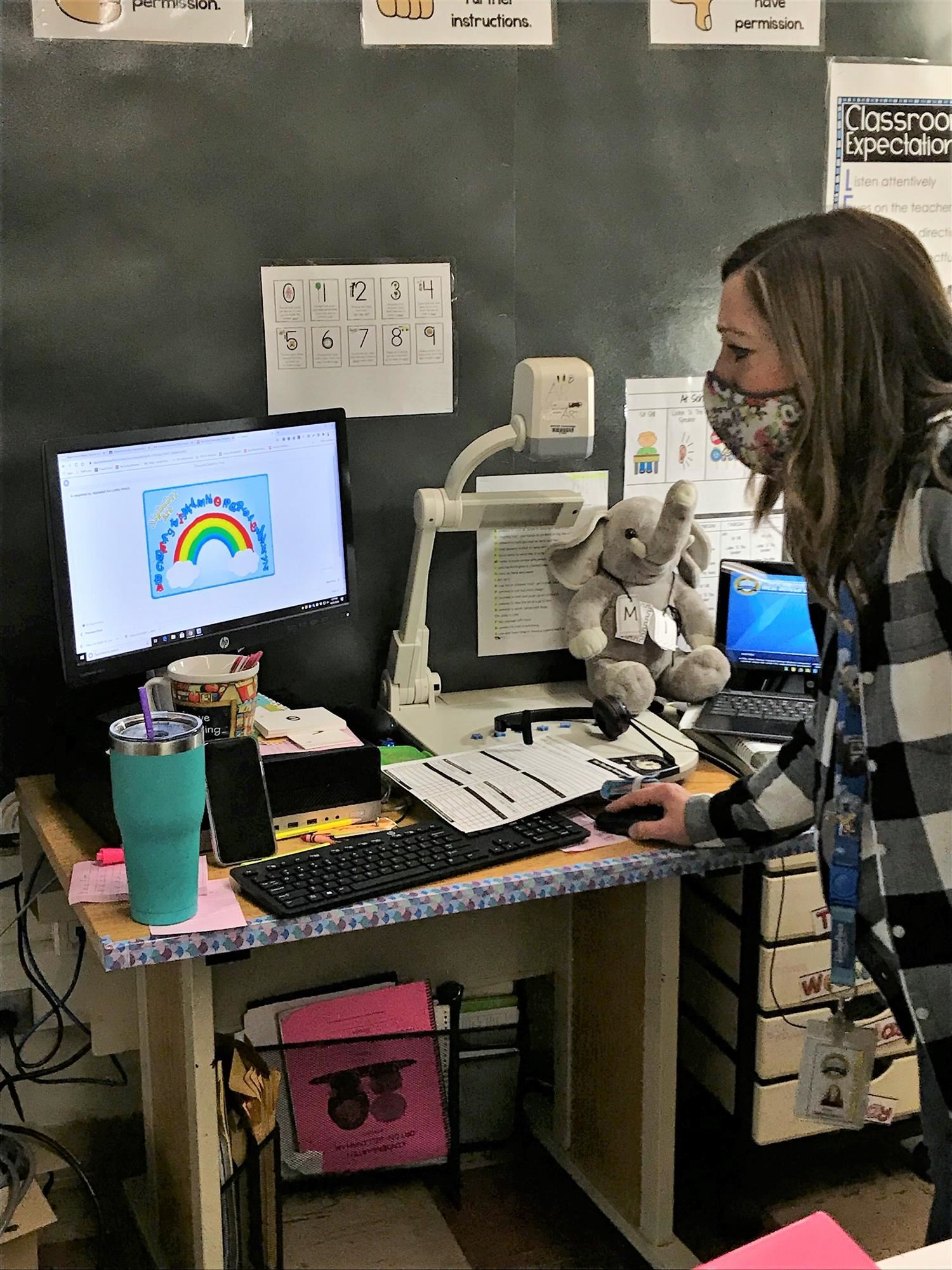 "I don't want to push too much with technology. Some of my kids have Clever, some have gotten onto that, some families are still a little hesitant, which is fine. I'm trying not to integrate that too much yet because they're getting used to Seesaw, they're getting used to Google Classroom, and different aspects of that," Majchrowicz said.
On Seesaw, students practice the alphabet, match uppercase and lowercase letters and sound out letters, activities that Majchrowicz said use lots of movement and fine motor skill motions to complete assignments.
"Today they did writing the numbers, so they had to practice writing the numbers zero through 10 and they had to use their computer in order to do that," she said, adding that there was a non-digital option in a workbook Majchrowicz sent home previously.
Also on Seesaw, students can take a picture or record themselves to share with the class.
"They're having fun, and then they get to watch one another do that, so that's awesome. A lot of times I'll get on a little earlier to meetings or stay on a little after if they want to talk with friends. Their little conversations are so cute. I always have the volume on so I can hear and make sure it's appropriate," Majchrowicz said.
Every day starts with a morning class meeting where Majchrowicz checks in with the students.
"They tell me if they're a four, fantastic; a three, good; a two, okay; or a one, not great. And then they can share why," she said. "We've been working with a social-emotional coach and she introduced me to that last year, and the kids just loved it. We've been doing that virtually, and we do a lot of sign language, because a lot of times their volume is off. We send love if someone's having a bad day," she said, demonstrating the sign for love.
Majchrowicz said most of the first month of school was spent navigating Google Meets with students, or on the phone or email with parents. The first days focused on learning the basics of video calls.
"We did 'mute,' 'unmute,' 'video on,' 'video off.' I have little cards that I hold up," she said. "Taking those little steps because for some of these parents this is their first child in a school setting and this all thrown into it."
The start of this year was unlike any other, she said. Normally on the first day of school students are active in the classroom, some playing with cars on the rug, others in the play kitchen, and more building with blocks.
Majchrowicz said she was speaking to another teacher whose son attends a district other than West Seneca.
"They said [students] can bring in a baggie of toys, and she asked who he played with, and he said, 'I didn't play with anyone, I played by myself,'" Majchrowicz said. "This is the sad reality when they do come back. It is still going to be a little more isolated, but hopefully they can at least talk to their friends near them and have that talking interaction."
She said the teachers in her building are collaborating to make the best out of what they have, celebrate what works and not dwell on what doesn't.
"I think the biggest takeaway is not only that anything is possible, but rely on your colleagues," Majchrowicz said. "I've learned so much and we've worked so hard as a team to try to get on the same page, to say, "What do the kids need, what are you seeing," where you don't feel like you're alone, because unfortunately we are kind of alone sitting here."