Tracy McCabe's Website - Elementary Grade 4
WELCOME

Ms. McCabe's Fourth Grade Classroom

Contact me via email or phone (677-3620 ext 4724)

Welcome to Ms. McCabe's classroom. An environment where everyone can learn! This website can help you and your family stay informed with the activities and assignments in the classroom.

Expectations of each student outside of the classroom:

* Each child must read 20 minutes every night

* Homework Page (Reteach or Practice) to go along with each new math lesson -- These links should be completed independently and then checked over by a parent. Parents can use the Pearson Website as a guide.

* Study for Tests and Quizzes

* On occasion, students may have additional homework in the areas of Social Studies, Science, or Reading.

Please check student planners daily!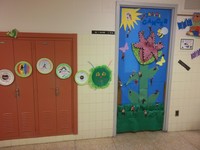 Related Links
http://www.allaboutexplorers.com

Explorers

http://www.internet4classrooms.com/skills_4th_math.htm

Help with New York State Standards

http://www.funology.com/

http://www.funbrain.com

Games for various skills in ELA and Math

http://www.factmonster.com