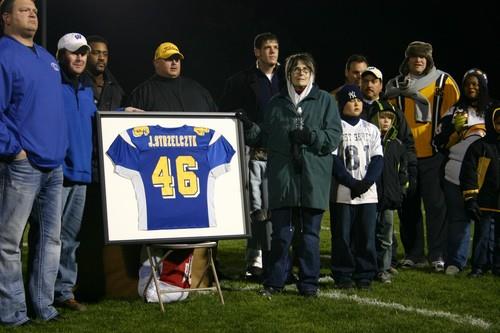 2009 Alumni Night - Retiring Justin Strzelczyk's jersey
On October 16, 2009, West Seneca West retired class of 1986 Justin Strzelczyk's jersey #46. Justin was an all star who led the Indians to the 1985 championship. He went on to play at the University at Maine and for 9 years with the Pittsburgh Steelers including playing in Super Bowl 30. Below is what West Football Alumni President Anthony DeYoung (class of 1986 and teammate of Justin's) wrote for the presentation:

In 1984, eleventh grade, Justin Strzelczyk made it known to his friends that

he wanted to play in the NFL.

Justin was a high school 3 sport star in Football, Basketball and Baseball.

He was named to the 1985 All Western New York Football Team as a Defensive

Back. He encouraged his friends to work hard and to aspire to reach higher

levels of achievement.

In college at the University of Maine Justin transitioned to defensive

tackle. He took advantage of his height and large frame. No one trained

harder in college. Justin's friends would join him for his training routine

of lifting weights and off field running and no one worked harder than

Justin.

It was clear to them that Justin's hard work would allow him to capture his

dream to play in the NFL.

Justin's dream became reality in the 1990 NFL draft when he was drafted by

the Pittsburgh Steelers in the 11th round to play Offensive Line.

Justin played 9 seasons in the NFL from 1990- 1999. His career was

highlighted by a trip to Superbowl 30 in 1995.

After Justin's retirement from the NFL in 1999 he could be found reminiscing

with friends, not about his achievements as an athlete, but as a parent.

Justin's proudest accomplishment, were those as a father.

Through hard work and dedication Justin turned his dream into a reality.

The West Seneca West Football Alumni are here tonight to retire the number

46 jersey of Justin Strzelczyk. His jersey hang in the halls to remind

students that through hard work and dedication they to can make their dreams

become reality!

Accepting the number 46 jersey are Justin's mother Mary Strzelczyk and his

children Sabrina and Justin Jr.