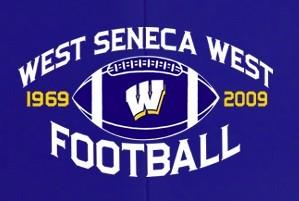 2009 Season
2009 SCHOLAR ATHLETE TEAM

2009 WNY OFFICIALS SPORTSMANSHIP AWARD

Despite suffering numerous injuries throughout the season, the West Football team persevered to compete against the top ranked teams in WNY including the 2008 NYS champions. Due to the perseverance displayed by this team and staff, Coach Cantafio was selected as the ECIC AA South Coach of the Year.

On November 18th, the following awards were given out.

THIRD TEAM: RYAN DIFLAVIO: LB

RYAN DIFLAVIO WAS SELECTED AA SOUTH DEFENSIVE PLAYER OF THE YEAR AND WESTERN NEW YORK HS SPORTS LEAGUE DEFENSIVE MVP


Modified Awards:

MVP- Ryan McCoy, Best Lineman: Dan Puntoriero, Bleed Blue: Brenden Ebert (8th), Louis DiChristopher (7th), Coaches Awards: Nick Clancy, Bryce Rydza, Chris Lucas, Eric Frey

Freshmen awards:

Offense MVP: John Lobdell, Defensive MVP: Kevin Hanley, Bleed Blue: (9th) Tyler Perna, Zach Marshall, Coaches' Awards: Rory Weiler, Phil Augustine

JV Awards: Offensive MVP: Zach Boyce, Defensive MVP: Andy Huegel, Bleed Blue (10th): Pat Braunscheidel, Coaches Award: Jake Michienzi, Steve Riggs

Varsity Awards:

Captains plaques: Josh Snyder, Nick Cusella, Ryan DiFlavio, Adam Kauffman, Mike Feirabend, Mike Arakelian

Offensive MVP: Adam Kauffman

Defensive MVP: Ryan DiFlavio

Bleed Blue: Matt Wheelock

Bleed Blue: Scot Zawadzki

Bleed Blue: Mike Arakelian

Congratulations to OL/LB Ryan DiFlavio who was selected as a Defensive Player of the Week by WNYHS Sports for his play vs. NYS Champion Orchard Park on September 18, 2009.

Congratulations to OL/LB Ryan DiFlavio who was recognized as one of the areas top linemen by the Trench Trophy committee for his play in week #5 vs. Jamestown.

Ryan DiFlavio and Mike Feirabend were selected to play in the annual Lions Club All Star Game. Ryan DiFlavio was selected as the South's Most Valuable Lineman.